This is another post sharing a blog that I absolutely love. Like I said in my last one, I plan on sharing all the blogs that I read so that you have a chance to discover more of the blog land as well. None of these bloggers have asked me to do this or are paying me advertising to do this (although maybe I should ask ;))
IHeart Organizing is also one of the first blogs that I found. Jen is a Mom of 3 boys and still manages to keep her house looking amazing. She is pretty inspirational and I love her posts and all her neat ideas to organize. Take a second to check her blog out by clicking the picture below and all you need to do is click on her house tour tab to see what I'm talking about!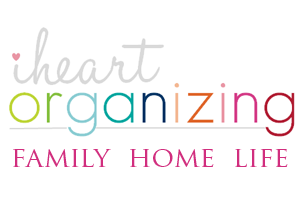 I'll be honest with you. Right now things are a bit of a stand still because we are planning the shower and we of course are moving in October so I don't have much to post about. I promise as soon as the shower is over I will have a slew of things to share in terms of all the DIY that is being done for it. I really want to post about the planning of a shower because when we researched it, there wasn't much to be found.
Also, once we move, I will be in full swing of home decor so that being said, don't worry, I have more engaging posts coming your way. I do hope you enjoy these posts featuring the blogs that I love though. To me, this is like sharing a book that I just read = D